Meetings — CLEM2001
---
Road CenterLine Extraction & Maintenance
Specialist Meeting, August 6/7, Santa Barbara
Background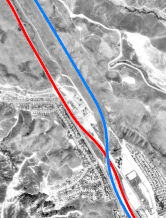 The Grapevine, I-5 north of Santa Clarita CA. Northbound (red) and southbound (blue) carriageways of Interstate-5 switch places over a 6 km stretch along the San Andreas fault

Professionals in the transportation database business voice a universal need for accurate road centerline data. The inaccuracy of current data — both geometry and attributes — is well known and documented. It impacts both the efficiency of current management and future scenarios such as ITS.

This meeting brings together a small group (about 35) of public/private sector experts and academics. Over two days of presentations and demos, we shall explore and challenge the state of the art in the suite of technologies involved in deriving and maintaining road centerline files. Innovators will have a chance to interact with commercial software developers.

Topics of interest:
algorithms for detection of roads and extraction of centerlines or attributes from aerial/satellite imagery and photogrammetry
experiences with correction/update of centerlines using aerial photographs or satellite imagery — manual or automated
creation, update, maintenance and validation of centerlines or attributes using non-image sources: national, municipal or utility files, field survey, kinematic GPS or other methods
commercialization issues, costs and benefits
The term "centerline" is used broadly — from a single-line representation of a complex highway, to centerlines representing each directional carriageway, multiple centerlines representing HOV and other carriageways, or lane centerlines. Work on detection/survey of kerb-lines/stripes and conversion to centerlines is welcome.

The meeting is sponsored by the NCRST-Infrastructure consortium and the Vehicle Intelligence and Transportation Analysis Laboratory (VITAL) at NCGIA, which are funded by the U.S. Department of Transportation (Research and Special Programs Administration), NASA Applications Division and the California Department of Transportation (Testbed Center for Interoperability).
Presentation Format
Papers
Focused software demonstrations
How to Participate
Space is limited. Preference will be given to papers or software demonstrations that best reflect the focus of the meeting.
By Monday, June 11, please fill out a Registration Request (now disabled) and enter a 100-word abstract. This applies whether you are presenting a paper or a demo. If you'd like to attend but not to present, you must still register by Friday, June 15. When you submit the form, wait for confirmation showing that it has been processed by the server. A day or so later you will receive notification by e-mail that the registration request has been received.
Abstracts will be reviewed by a Program Committee. In the event that the meeting is oversubscribed and your presentation or attendance cannot be accommodated, you will be notified as early as possible. Abstracts should focus on methodological issues.
The only thing you need to prepare for the conference is a Powerpoint-style presentation — there is no need to write up a paper for the moment. A XGA resolution (1024x768) data projector will be provided. Presentation files will be made available on the web following the meeting. Based on group consensus, we may invite participants to write full length papers for publication in a refereed volume.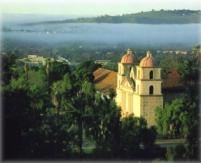 Some Fiesta activities will be staged at the Santa Barbara Mission
Schedule
Sunday August 5 is the last day of the Fiesta weekend in Santa Barbara. We recommend arrival on Friday August 3 to enjoy the festivities (and maybe to save on airfare). There's also good hiking, snorkeling, people-watching, etc, so bring the family and make a vacation out of it. Note that this is high tourist season, our special hotel rates are not that special on Friday/Saturday, and hotels may prefer to accommodate those who book both those nights rather than one. Book early!
Sunday, August 5
1800-2000 Wine and cheese reception
Monday, August 6
Preliminary Program

0730
Breakfast
0830
Welcome and Introductions
0855
Measuring Accuracy of Street Centerline Datasets
Donald Cooke
Founder, GDT, Lebanon NH, USA
0935
MAF/TIGER Modernization
Robert A LaMacchia
Assistant Division Chief, Geography Division, U. S. Census Bureau, Washington DC, USA
1015
Break
1035
A Comprehensive Survey of Extraction Techniques of Linear Features from Remote Sensing Imagery
Raad A Saleh
Scientist, Civil and Environmental Engineering, University of Wisconsin-Madison Madison WI USA
1115
Automatic Feature Recognition and Extraction from Remote Sensing Imagery
Edward F Granzow
Principal, Iguana Inc, Crystal Bay NV, USA
1200
Lunch
1330
Optimization-based method for road network extraction
Demin Xiong
Staff Research Scientist, Center for Transportation Analysis, Oak Ridge National Laboratory, Oak Ridge TN, USA
1410
Mapping Road Surfaces and other Urban Materials using Hyperspectral Data
Dar Roberts
Department of Geography, University of California, Santa Barbara CA, USA
1450
Global road databases?
Chris Funk
Graduate Researcher, Geography Dept, University of California, Santa Barbara CA, USA
1520
Break
1540
Multispectral Feature-Space Approaches to Change Detection and Road Extraction
Chris Chiesa
Manager, GIS Technologies and Applications, Geospatial Production and Services Dept. Veridian Systems, Tucson AZ, USA
1630
Alignment Optimization and Quality Data
Peter Gipps
R&D Manager, Quantm Ltd, Melbourne Vic, Australia
1700
Adjourn
1800
Wine
1900
Dinner
Tuesday, August 7
0730
Breakfast
0830
Experiences With Kinematic GPS Surveys in Developing Countries
Christopher Bennett
Senior Pavement Management Specialist, Montgomery Watson New Zealand Ltd, Motueka NL, New Zealand
0910
Integrated GPS/INS/CCD System for High-Precision Centerline Extraction
Charles Toth
Research Scientist, Center for Mapping, The Ohio State University, Columbus OH, USA
0950
Use of Vehicle Probe Data in Map Databases
Russell Shields
Principal, Ygomi LLC, Chicago IL, USA
1030
Break and Software demo
Roadway Centerline and Feature Extraction Using Aerial Remote Sensing and Photogrammetry
Ted Jones, Gay Hamilton Smith
District Statistics Administrator, District Three Planning, Florida Department of Transportation, Chipley FL, USA
President, HSA Consulting Group. Inc, Gulf Breeze FL, USA
1110
Addressing Multi-Centerline Representation Issues from a Transportation Engineering Perspective
Kai Han
Transport Information Group, University of Manitoba, Winnipeg MB, Canada
1200
Lunch
1330
The Texas StratMap Transportation Data Model
Terry C Bills
Vice President, Gis/Trans, Ltd., Torrance CA, USA
1410
UNETRANS: essential data model for transportation
Kevin M Curtin
Department of Geography, University of California, Santa Barbara CA, USA
1450
Where have we come, where do we go from here?
Michael F Goodchild
Department of Geography, University of California, Santa Barbara CA, USA
1520
Adjourn
Dress
On the casual side of "Business casual"
Venue
Upham Hotel
1404 De La Vina (at SOLA)
Santa Barbara, CA 93101-3057



| | |
| --- | --- |
| Phone Toll-free | 800.727.0876 |
| Phone Local | 805.962.0058 |
| Fax | 805.963.2825 |

The Upham is a charming Victorian (1871) bed & breakfast in the heart of downtown. Fare includes continental breakfast, afternoon wine and cheese, and milk and Oreo cookies at bedtime. You'll be in fine company in the guest book — alongside Agatha Christie, Aldous Huxley and Richard Nixon.
Be sure to mention CLEM2001 to get the meeting rate ($96/night), which applies for the nights of Sunday August 5 thru Tuesday August 7 only.

For Friday and Saturday nights the rates are $150-225/night — the $225 end gets you a fireplace and Nixon's initials indelibly inscribed on the bedpost — and CLEM2001 attendees get a 10% discount on those numbers. You could explore other hotels (e.g. Tiffany Inn, El Prado Motor Inn) or nearby towns (e.g. Solvang) on those nights.
Getting Here
Santa Barbara (SBA) is connected by direct flights from Los Angeles, San Francisco, San Jose, Las Vegas, Phoenix and Denver. Principal airlines are America West, American and United. Or you could drive from Los Angeles — about 90 minutes. Travel options and orientation can be found at VITAL's Santa Barbara gateway.
Directions to Upham Hotel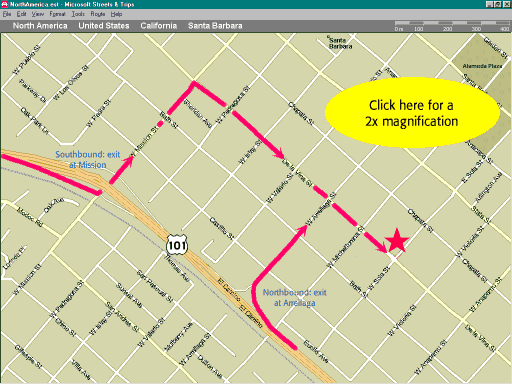 From SBA airport
Turn right as you exit the airport parking lot, following signs for Santa Barbara
Stay on the road as it curves left below an overpass and merges with CA-217 North (Ward Memorial Blvd)
Follow CA-217 for about 2 minutes, keep left as it merges with US-101 South
Mission Street exit (5-10 minutes) ... turn left (NE) at light
De La Vina is the 3rd right (SE, one-way)
Cross Arrellaga; after that, Upham is the 2nd block on the left
From LAX airport
Interstate-405 North about 20 minutes to US-101 North (Ventura Freeway—Ventura). Careful not to exit at Ventura Blvd
Follow US-101 North (runs west) for about an hour to downtown Santa Barbara (LAX-SBA map)
Arrellaga Street exit: puts you on Arrellaga Street, heading NE (map above)
De La Vina is the 3rd right (SE, one-way).
Upham is the 2nd block on the left
Program Committee
Peggy Agouris, University of Maine
Rick Church, UC Santa Barbara
Don Cooke, GDT
Ernie Ott, ESRI
Demin Xiong, Oak Ridge National Laboratory
Questions
Val Noronha < noronha@ncgia.ucsb.edu >
Phone +1.805.893.8992
---